Flights
Wednesday, 29MAY

Chicago to Venice
6:55pm-11:00am +1
American Airlines
AA 42
Seats, 4A, 5A, 5D, 5H
Confirmed
Wednesday, 12JUN

Rome to Chicago
11:05am-2:40pm
American Airlines
AA 111
Seats 3A, 4A, 3D, 3H
Confirmed
Chicago to Venice - May 29
Take an overnight flight, arriving in Venice before midday.
May 11
Get to your hotel in style: by water taxi!
Check in at the Gritti Palace (2 nights); we have booked a Grand Canal View room for Mom & Dad and a Giglio Prestige room for the kids
May 12
Spend the morning getting to know Venice like a local with our friend Matteo. The afternoon is free to explore on your own.
Stay at Gritti Palace with Virtuoso perks:
Upgrade on arrival
Daily full breakfast
$100 USD Equivalent Food & Beverage credit
Complimentary Wi-Fi
Early check-in/late check-out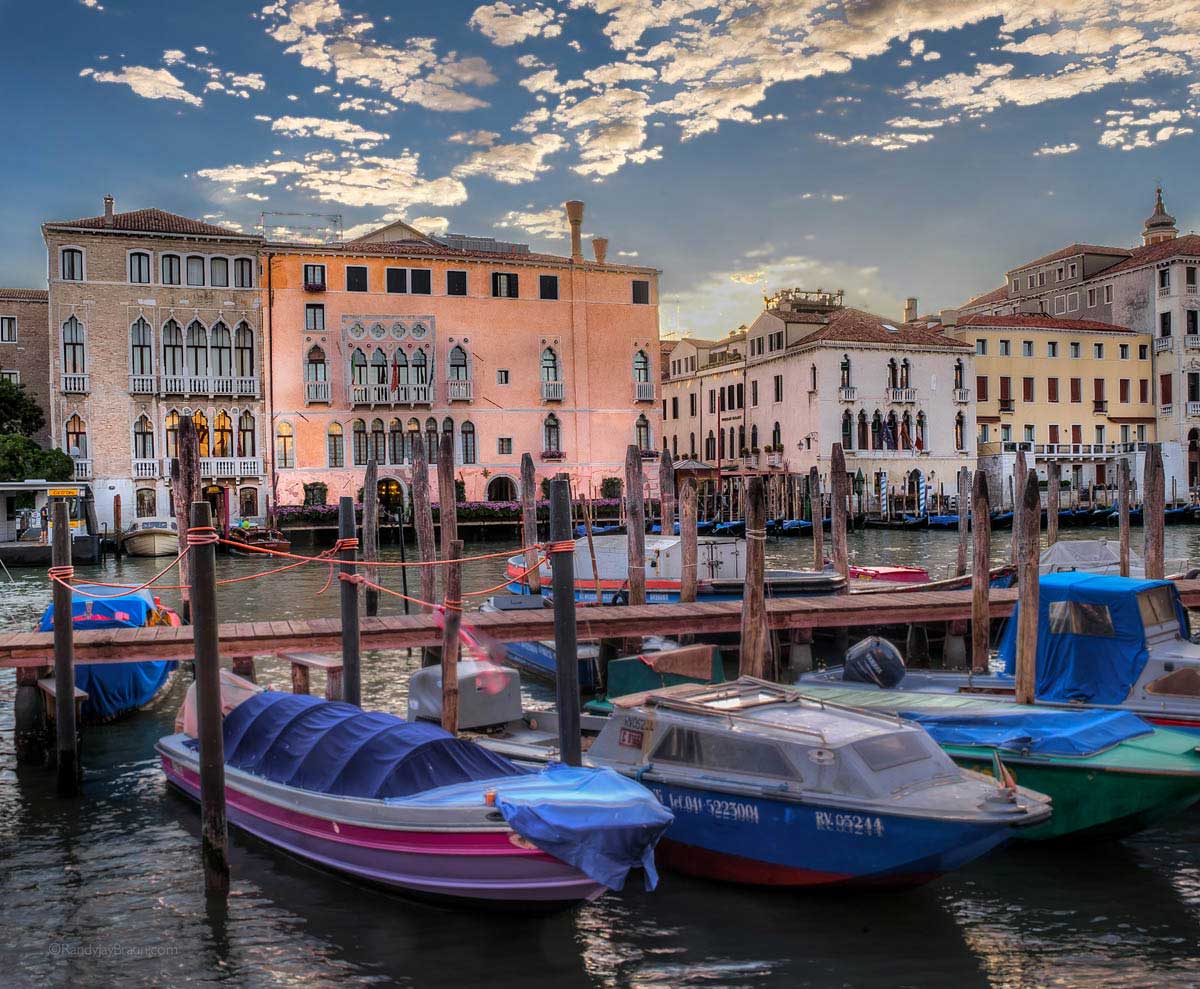 Explore the city on foot, learning about its long history and rich culture from our friend Matteo. You'll spend three hours together, learning about Venice from a local's perspective. Ask him to end the tour at a fun lunch spot, and feel free to invite him to join you.
Venice is one of those places that everyone should see once in their lifetime. Internationally famous as a symbol of old-world Italian romance, beauty and culture, Venice is a one-of-a-kind place on the world stage. Even after a few minutes in the city, you'll quickly see why it's been immortalized in so many wonderful pieces of art, from paintings to poetry. Beautiful Venetian architecture and delicious Venetian cuisine all await you.
June 1
Take the train to Florence
Arrive in Florence check into Portrait Firenze (3 nights), where we have booked a Prestige Suite River View, connected to a Studio Deluxe Suite River View
After checking in, have lunch and then meet our friend Simone for a visit to the Uffizi, followed by an early evening passagiata
June 2
Meet Simone again for a little gelato and a big David
June 3
Meet Simone a final time to explore the Oltrarno--the other side of the river.
Stay at Portrait Firenze with Virtuoso perks:
Upgrade on arrival,
Daily Buffet breakfast
A bottle of Italian sparkling wine in room upon arrival
Complimentary one-way transfer to airport or rail station
Complimentary internet access
Early check-in/late check-out
The Uffizi is home to the world's finest collection of Italian Renaissance painting, particularly of the Florentine school. It also has antiques, sculpture, and more than 100,000 drawings and prints. The Uffizi Gallery has a comprehensive and voluminous collection of Florentine paintings from the Late Gothic through the Renaissance and Mannerist periods. Its holdings of works by Sandro Botticelli are quite extraordinary, and the Uffizi is one of the most popular tourist destinations in Florence.
Venture out in the late morning into the Piazza della Signoria. The hub of local life since the 13th century, Florentines flock here to meet friends and chat over early-evening aperitivi at historic cafes. Presiding over everything is Palazzo Vecchio, Florence's city hall, and the open-air gallery showcasing Renaissance sculptures, including the much-photographed copy of Michelangelo's David guarding the western entrance to the Palazzo Vecchio since 1910 (the original stood here until 1873).  Afterwards you'll visit a gelato laboratory and learn to make your own iconic Italian treat.
Like Paris, even Florence has its rive gauche, otherwise known as the Oltrarno, which literally means "on the other side of the Arno." This achingly hip 'hood is traditionally home to Florence's artisans and its old-world, bohemian streets are sprinkled with botteghe (workshops), independent boutiques and hybrid forms of both. Its backbone is Borgo San Jacopo, clad with shops and a twinset of 12th-century towers, Torre dei Marsili and Torre de' Belfredelli.
June 4
Pick up your rental car and take off into the Tuscan countryside
Check into Castiglion del Bosco (4 nights); we have booked Villa Alba
June 5
Hunt for truffles in the Tuscan countryside (tentative)
June 6
Enjoy some downtime in Montalcino and relax by the pool
JUNE 7
Spend the day embracing Tuscan Gastronomy at Poggio Etrusco
Stay at Castiglion del Bosco with Virtuoso perks:
Upgrade on arrival
Full breakfast daily
$100 USD equivalent Spa Services credit
Early check-in/late check-out
Complimentary Wi-Fi
Truffles are serious business in Italy (and frankly, all over the gastronomic world). Happily, Tuscany is full of them. They aren't easy to find, and pigs were the original honing devices, but as it turns out their willpower is minimal, and they simply can't help themselves from snacking on (and sometimes entirely consuming) the catch of the day. Nowadays, truffle hunters get help from Man's Best Friend to uncover the nuggets in the forrest;
It takes a bit of walking, a bit of whistling, a bit of snuffling, and a lot of patience, but when you're surrounded by rolling Tuscan hills and the verdant greenery of this region's famous forrests, the time seems to go by so quickly, and all of a sudden you've got a glass of wine in one hand and a forkful of  fragrent pasta in the other.
All in all, going out for a walk with a truffle hunting dog and his human is not a bad way to spend a few hours.  Not bad at all.
 Our favourite Tuscan food day is at a privately owned organic farm near Montepulciano, located halfway between Florence and Rome. The owners are a cookbook author and an artist. On 15 acres, this property is an active oliveto with over 800 olive trees and production of an exceptional organic extra-virgin olive oil
The views are breath-taking from every angle. In the distance you can see the charming hilltown of Cortona and Lago Trasimeno; nearby we see the ancient towers of the historic towns of Montepulciano and Chianciano Terme. The farm is in the countryside, but has close access to everything you will need.
June 8
Check into Hotel Eden (4 nights)
Discover the city on your own or take it easy at your hotel
June 9
Learn about Rome's history, both ancient and modern, on a walk through La Vita Romana
June 10
Tour the Vatican and learn about the history of the Catholic Church and Rome
Stay at Hotel Eden with Virtuoso perks:
Upgrade on arrival
Buffet breakfast daily
$85 EUR Food & Beverage credit
Early check-in/late check-out
Complimentary Wi-Fi
Today's walk is an introduction to Rome, the ancient side and the modern. The encounter has been honed from our years of experience, and fine-tuned to give you an orientation of the Eternal City from the perspective of a local.
You will start by seeing some of the famous sites, like the mighty Pantheon and dazzling Trevi Fountain, with a few little sputini along the way.
At the end of the walk you'll have a guided introduction of the underground of the largest ruin of the Roman Empire, the Colosseum.
Private Guided Visit of the Vatican
You'll be among the first to enter the Vatican museums and enjoy the Sistine Chapel before the crowds arrive. After seeing the Sistine Chapel you will have unique access to enter the Cabinet of the Masks, which is a room that is closed and locked during the General hours. This is a great chance to relish the beauty of the ceiling and the Last Judgement by the immortal genius of Michelangelo, as well as the cycle of frescoes on the walls painted by many great masters of the Renaissance—Botticelli, Perugino, Pinturicchio, Ghirlandaio and others.
This unique visit also includes other amazing sections of the Vatican Museums: Raphael's Rooms, the Tapestries Gallery, the Gallery of Maps and so much more, along with St. Peter's Basilica where the famous Pietà by Michelangelo is kept and the impressive colonnaded square by Bernini, one of the ultimate masterpieces of Baroque architecture.
Farewell to Italy - June 12
Catch your flight to Chicago and be home in time for dinner.
+1..647.724.3977
takemeaway@travelimpresarios.com